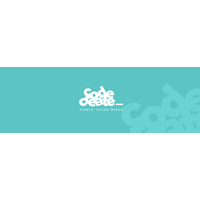 Coding is the new literacy
Like reading, writing and arthrimitic, coding is becoming an essential skill. Knowing how to program a computer gives us a deeper understanding of technology, which we interact with constantly in our daily lives. Being literate in code empowers us to craft and create what we desire.
Coding teaches computational thinking
Coding allows you to think about problems in a systematic and pragmatic way. Computational thinking, the ability to break down problems and express solutions in a way that computers can understand, is now a vital skill for everyone and not just computer scientists.
A pathway to a career in tech
Software development is one of the most in-demand skills of the 21st century. The BC technology industry is rapidly growing, but the talent gap is widening. Learning how to code opens greater career options and ensures job security.
It's fun and creative!
Code gives us a way to express our imagination and share ideas. Whether you want to build a game, app or website, coding is a creative endevadour that allows us to create with language. Best of all, it's fun!
When, Where, and How Much
Codecreate will happen on December 12th, at John McGinnis School.
All of the events are absolutely free, including lunch! In some communities, students will have to bring their own laptops in order to participate. Please check the city's registration page to confirm.
To learn more about this exciting opportunity in Prince George, click here.
---